If you're experiencing issues with a slow PC, follow these steps.
Have you ever sensed that your computer somehow senses when you're dealing with immense pressure or racing against a tight deadline, and then autonomously decides to slow to a crawl? It's almost like it knows that you need it a whole lot more than it needs you. Perhaps it harbors a grudge against you for not shutting it down correctly on previous occasions, and reducing its speed from a sprint to a crawl is its form of retaliation? Or because we installed some shady software and it's been waiting for the perrrrfect time to teach you a lesson?
Regardless, we've all been in a situation and it can be maddening.
Here are 5 steps we recommend taking to resolve the issue.
1) Restart the computer (do NOT perform a hard reboot)
Start with a regular restart. This allows the PC to force close any open programs and processes the way they are designed to be closed.
Why you shouldn't hard reboot first?
A hard reboot (also known as a hard reset or forced restart) is way down the list because it abruptly cuts the power to the computer, causing it to shut down and restart without properly closing open programs and processes. This can potentially cause data loss, file corruption and hardware damage.
2) Check for Windows updates
Generally, the easiest way to do this is to search for "updates" in the search bar. If that doesn't work, you can follow these steps to check for Windows updates.
Press the Windows key on your keyboard or click the Windows icon in your taskbar.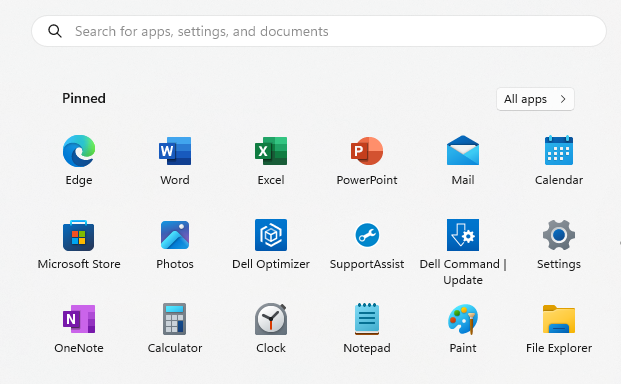 Click on Windows Update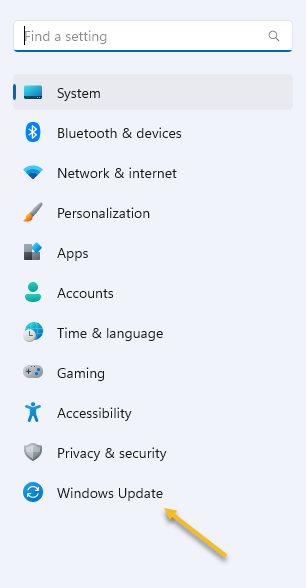 3) Open Task Manager to monitor system performance
To do this, simply search for "Task Manager" in the search box or hit Ctrl+Alt+Del. Once you're in the Task Manager, right-click to close any high RAM usage programs or applications.
How this could help?
The Task Manager can be helpful for several reasons. First, you can see what processes and applications are currently running on your computer, allowing you to pinpoint any that may be hogging resources. There may be background processes or services that are consuming system resources without your knowledge. Task Manager allows you to identify and close such applications, potentially resolving the slowdown issue.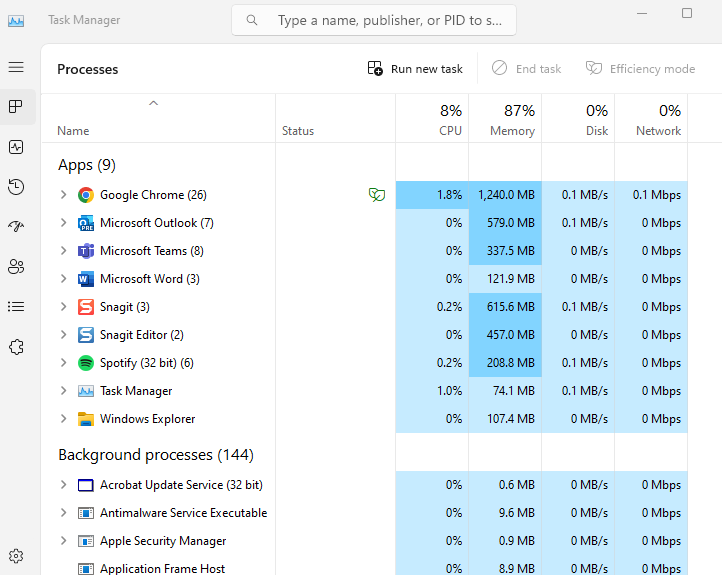 4) Conduct a Disk Cleanup to free up space
To do this, press the Windows key on your keyboard or click the Windows icon in your taskbar and type in "Disk Cleanup."
Select the drive you want to clean up (usually the C: drive) and click OK.
Wait for Disk Cleanup to scan your system for files that can be deleted.
Once the scan is complete, check the boxes next to the types of files you want to delete. You can click on each item to see a description of what it is.
Click on the "Clean up system files" button to scan for additional files that can be deleted, such as Windows Update files and old system restore points.
Check the boxes next to the types of system files you want to delete and click OK.
Click on the "Delete Files" button to confirm that you want to delete the selected files.
Wait for the cleanup process to complete.
How this could help?
Performing a disk cleanup can help remove unneccessary files (cached data, log files, etc.) that have been built up over time. Doing so also reduces file fragmentation. File fragmentation is when a file is divided into smaller pieces and store in non-contigous locations on a hard drive.
5) Restart (not reboot) your PC again
How this could help?
If you've made it this far and are still following along, you've made quite a few changes thus far. As such, it's probably a good idea to restart your computer to see if the changes you made improved the overall speed of our machine.
6) Submit a Ticket (or contact LouGeek to discuss ongoing support)
If you are an existing customer, you can click here to submit a ticket or head to our support portal to submit a ticket. If you are not an existing customer, feel free to contact us to setup a free consultation to discuss ongoing IT support for your business.