This just might be the most underrated iPhone feature ever created.
Disclaimer
I wrote this column with iPhone users in mind. However, if you're a green texter, you're more than welcome to stay. I also want to preface by saying I'm no Apple fanboy. You won't find me camping outside an Apple Store eagerly awaiting the next iPhone release. Truth be told, I'd still be rocking my Blackberry (best keyboard ever), but the iPhone helped end that run back in 2010, which is when I first began using Apple's smartphone.
Typical ups and downs
My relationship with the iPhone hasn't been perfect. Like many, we've had our ups and downs. I've been tempted to test the waters, but the process of moving all my contacts, music, photos and apps gives me anxiety.
Back in the day, before smartphones took over our lives, losing all the stuff on your phone was no big deal. Today, losing everything on your phone could become the plot of a Netflix horror series.
The time was approaching
A few weeks ago, it became evident I would soon need to retire my trusty iPhone X. All the warning signs were there. I couldn't leave the house without a charger because my battery would die before lunch. To make matters worse, my screen looked like a spider web and sometimes my beard became tangled in the chipped glass mid call, which was always pleasant. Worse, sometimes callers could not understand what I was saying. And, I dropped calls.
Can you hear me now?
I put off upgrading to a new phone for as long as I could because, quite frankly, it's a pain in the butt. Typically the migration process took me hours to complete and I'd need to first make a backup. Usually, I'm out of iCloud storage, so Apple reminds me of that fact about a half dozen times during the process.
Nevertheless, it was time. I went with the iPhone 13 Pro Max. The moment I turned the new phone on I was greeted with one of the most glorious messages I've ever seen.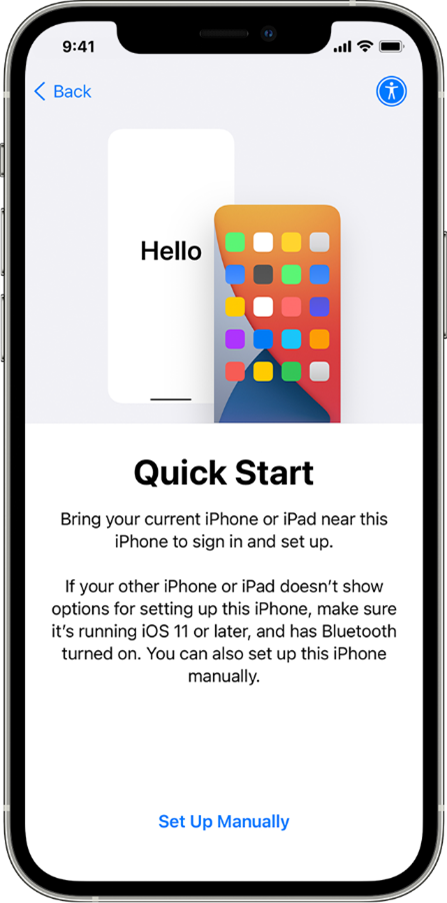 Keep in mind it's been nearly four years since I upgraded to a new iPhone, so this might not be news to you. But for those of us who put off upgrading, this feels too good to be true. If this works, it's magic.
Spoiler. It worked. It's magic.
What is Apple's Quick Start and why is it so awesome?
Before Quick Start was launched with iOS 11 in 2017, setting up a new iPhone typically meant backing up your old phone's data, noting your old settings and apps, loading those items on the new phone, reconfiguring your settings (including email), then migrating all your corresponding data to the new handset. It also usually meant you had to log in fresh to all your apps, always a fun way to spend your Saturday.
With Apple's Quick Start feature, you can point your new phone at the old one, and all your settings, apps, contacts and other data transfer to the new device.  As long as iOS is up to date on both devices and they are both on the same Wi-Fi network, Apple's Quick Start does not require you to separately back up your data, meaning you no longer have to perform a backup of your phone ahead of time. The data and settings just transfer from the old phone to the new model. So, if you've been waiting to upgrade because you dread the migration process, never fear. It's become much less painful.
And I'd be remiss if I didn't share a few last words regarding iCloud and backups. In my opinion, it's always smart to start the process by backing up your old iPhone, as you never know what might happen. If you don't have enough iCloud storage to back up your current iPhone using iCloud Backup, Apple provides temporary iCloud storage to make a backup. Backups, of course, also provide a safety net in case something goes askew, and additional iCloud storage space is cheap at just ninety-nine cents a month for an extra 50GB.