Trust these accessories to power and protect your Apple Devices
The numerous and varied accessories available for Apple devices can prove surprising. The first time I saw an ad for Anker chargers I thought why would you need another? Apple already includes one with each iPad, iPhone and Mac and they sell extras, in the event you lose one. But years later, having needed additional cases, chargers, cables and battery packs and having stored extras at the office and around the house, I get it. Keeping digital device accessories at various locations—including the car, workbench, house and office—and losing more to family, friends and coworkers who were in need or (I'm looking at you, housemates) who walked off with various numerous accessories I procured, I now understand you can never have too many of these handy ancillary conveniences and, in some cases, necessities. 
I suspect your experience may match mine. Subsequently, I'm comfortable recommending the accessories I've found particularly helpful for everyday, heavy duty use. 
When I purchased my first Anker charger and cable for an iPhone, I was impressed with their additional features. The cable's premium nylon sheathing and reinforced connectors better resisted regular wear and tear. And the charger's foldable plug made the small cube even easier to toss into a backpack or pocket and transport. The corresponding power block's two USB-A ports, delivering up to 12 watts of power, also doubled capacity. Now I could charge two iPhones simultaneously, particularly helpful when traveling with family. These components were definitely upgrades over the standard issue counterparts Apple included with the initial purchase. 
OtterBox produces similar accessories. I've lost track of how many of the company's cases—including the popular Commuter, Defender and Symmetry models—I've purchased and recommended to clients over the years. The minimal investments are a no brainer, as they protect expensive smartphones from drops, cracked screens and other costly hazards. 
The past couple weeks I've incorporated into my routines a collection of OtterBox Apple accessories, including the $34.95 Premium Pro Fast Charge Lightning to USB-C cable, $69.95 Premium Pro Fast Charge Wall Charger and the $49.95 Symmetry+ iPhone and $89.95 Symmetry 360 Elite iPad Pro cases. Like the Anker products I've used previously, these alternatives are robust replacements and attractive substitutions for the original equipment Apple includes in the box or offers as paid extras. 
In fact, I left the original equipment charging block and power cable for the new iPhone purchased last month in the box, choosing instead to employ OtterBox's $149.95 3-in-1 Charging Station with MagSafe. The stand accommodates charging three Apple accessories—an iPhone, Watch and AirPods Pro—at once. Thanks to possessing 15-watt MagSafe iPhone, 5-watt MagSafe Apple Watch and 5-watt MagSafe AirPods Pro chargers, the station helps organize a desktop or bedside table and ensures the devices are convenient to store and power up. The MagSafe chargers snap the corresponding accessories securely into place, and the component's aluminum framework makes for solid and stable interaction—I don't get the feeling an errant grip or accidental bump will send the unit, as shown in Figure A, suddenly crashing to the floor.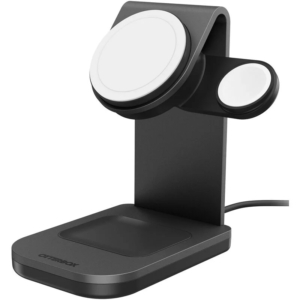 OtterBox's 3-in-1 Charging Station accommodates charging Apple iPhones, Watches and AirPods Pros simultaneously while also providing an unobtrusive stand to hold all three products. 
The Premium Pro Wall Charger, as shown in Figure B, is becoming a constant companion. In addition to producing 72 watts of total charging capacity, the portable power plant offers two USB-C ports as well as a USB-A option that helps some older cables remain relevant. Due to its intelligent power distribution, using a single USB-C plug enables the charger to provide up to 60 watts of power, meaning the accessory can even power my Mac laptop. There's no need, with this three-port version that accommodates both USB-A and USB-C plugs, to carry an additional charger.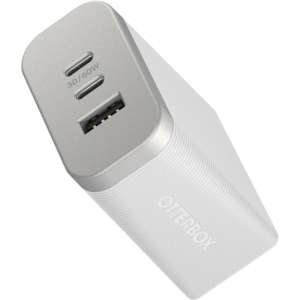 OtterBox's Premium Pro Wall Charger includes two 30-watt USB-C ports as well as a 12-watt USB-A option. 
The ability to charge multiple devices simultaneously is becoming more important, especially considering many professionals now rely upon more than one device—a smartphone, watch, tablet and maybe a laptop—throughout the day. Like most everyone else, I require a cornucopia of charger and cable combinations. Having multiple ports within a single block further simplifies daily life. 
Protection is another concern. The company's Symmetry+ iPhone case, like the Symmetry 360 Elite iPad Pro case shown in Figure C, provides sleek, mobile-friendly protection from common drops and bumps. The iPad Pro case even includes a feature I wish Apple's designers had thought to include within its $299 Magic Keyboard: Apple Pencil storage. Other simple features, such as automatic wake and sleep when the magnetized cover is open or closed and the fact the cover folds into a stand, make the accessory an easily justified purchase.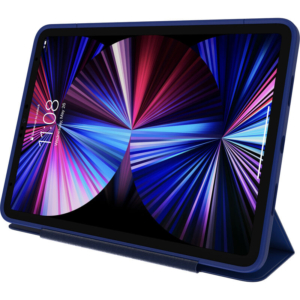 The Symmetry 360 Elite iPad Pro case's rubberized-like feel provides a confident grip and protection from common bumps and drops. 
Should you find you're using your iPhone so much that you need additional power and can't always track down a standard wall outlet, OtterBox has a product to assist. Just as Anker offers a convenient portable MagSafe power bank, so does OtterBox. The company's Wireless Power Bank, as shown in Figure D, boasts strong magnetic alignment and 5,000 mAH capacity. The product's two-sided wireless charging capability means you can also charge the power bank (such as by using OtterBox's 3-in-1 charging stand) while simultaneously charging an attached iPhone. The MagSafe connections securely connect all three components, in my experience. 
The OtterBox Wireless Power Bank permits charging Apple devices, such as iPhones and AirPods Pros, while on the go. 
I'm learning that, as I become increasingly dependent upon Apple products—including an iPhone, iPad, Watch and Mac that I use daily—having multiple case, charger and cable options is becoming a necessity. 
Chargers and cables, yes, you may say, but multiple cases, too? Do you really need more than one? 
When traveling, I carry my iPhone using a wallet—Twelve South's $69.99 Book Book is my current companion—which keeps my ID, cash and credit cards ready and only as far away as my boarding passes on the iPhone. During regular work weeks, though, I'm partial to the slimmer MagSafe Symmetry, which works with my truck's integrated wireless charger and is simply lighter and easier to whip in and out of pockets. 
I'm sure, though, to tap the protection of a screen protector. OtterBox has an easy-to-install and effective $39.95 answer for that need, too. I feel better carrying a thousand-dollar-plus iPhone 14 Pro knowing I'm not neglecting forward-facing protection. 
The same multiple case wish proves true for my iPad Pro, too. When using the tablet extensively as a replacement for my MacBook Pro, I prefer the protection and convenience Apple's Magic Keyboard provides. But when tooling around on a weekend or just browsing and firing off quick email responses in the office, the lighter weight and rubberized-like feel of the Symmetry 360 Elite is my preference. 
As greater minds have said, it's important to always have options. Anker and OtterBox (and Twelve South, for that matter) provide reliable and proven accessories I've come to depend upon. These purchases I once viewed as luxuries have rapidly become necessities, as least for this digitally active technology professional.