Using Yammer and Stream for Employee Engagement
As the COVID-19 pandemic continues to force millions of employees to work remotely, collaboration across teams and departments can become challenging. Employers are scrambling for ways to replace their water coolers with by building and modifying digital platforms that attempt to mimic virtually what we are missing out on in person but doing so can become timely and costly, but it doesn't have to be. If you're an active Microsoft 365 subscriber, there are two built-in Microsoft 365 applications that can help any business overcome these challenges.
Enter Yammer stage left. Enter Stream stage right.

What is Yammer?
People often describe Yammer as the Facebook for business, a social network platform for a company. It gives employees the ability to share information, post polls, updates, events and announcements; to which their coworkers can comment, like and vote. You can use Yammer through your browser, or you can install Yammer on your desktop or mobile device.
Yammer functions via Groups, so organizations can have multiple groups with separate permissions (e.g. you could have a Yammer group for an HR department, one for Marketing). Yammer can also be embedded into a SharePoint page or site, which is a handy feature for those who use SharePoint as an Intranet.

Creative ways to use Yammer
Unlike email, we consider Yammer to be less formal and more conversational. Email tends to be one-way communication, not a channel for open communication, so we use Yammer as a tool to connect and gather feedback from our employees, in an informal way.
Some of our customers use Yammer to communicate Human Resources information, such as insurance open enrollment information or announcements about flu shots at the office.
Before the pandemic struck, Microsoft's marketing department declared 2020 as the #yearofyammer, and the intuitive marketers of Microsoft seemingly hit the nail on the head.
What is Microsoft Stream?
If Yammer is Facebook for business, Stream is YouTube for business.
Microsoft Stream is a video service that allows members of your organization to upload, watch, and share videos in a secure manner. Microsoft Stream makes it possible for you to share video content of meetings, training sessions, classes, and live events to help facilitate collaboration for your organization's teams. Just like in YouTube, you can use Stream to organize videos by channels (e.g. training, HR, entertainment).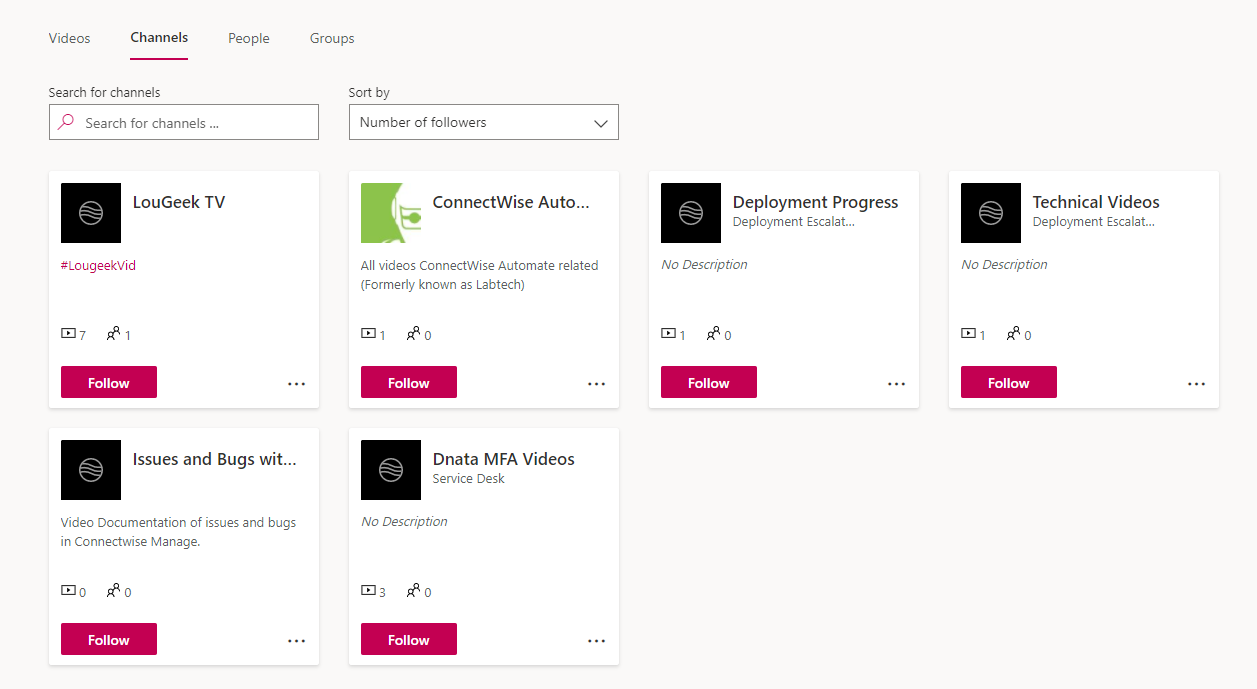 Creative ways to use Stream
We use Stream to host training and other internal videos that we wouldn't feel comfortable posting on YouTube. It's our internal video hub. We also use Stream as a tool to organize and store videos in SharePoint.
Conclusion
Replacing in-person connections is difficult, but by utilizing these handy tools, you can improve communication and boost moral as we anxiously await returning to the days of running into our coworkers at the coffee station.