Why Microsoft 365 Backup is Insufficient
With more and more businesses relying on Microsoft 365 to run their daily operations, small businesses sometimes assume that all of their data is being backed up on a daily basis, when oftentimes that's not always the case. Even smaller businesses accumulate massive amounts of data and thus have a need for more advanced backup and data protection than what Microsoft can provide, which is why we recommend Datto to our customers.
Datto offers SaaS Protection for Microsoft 365, the leading cloud-to-cloud backup product providing an all-in-one backup, restore and export solution that covers Exchange, OneDrive, SharePoint, and Teams.
Why Microsoft 365 Backup is Insufficient
There is a common misconception that Microsoft provides sufficient backup, but this is not the case. Let's take a look at why relying on Microsoft to keep your business data safe puts you at risk and how data loss can occur.
Ransomware
If your business suffers a ransomware attack, this puts you at risk of losing not only your valuable business data but also a hefty sum of money to criminals—without any guarantee your files will be unlocked. Microsoft recommends third-party backup as the only way to recover from data loss associated with ransomware encryption.
Permanent Deletion
When a SharePoint Online administrator deletes a site collection, all data will be placed in the Recycle Bin where it is kept for 93 days. It is automatically and permanently deleted after this time, and there is no rollback option.
Inactive Licenses
An active Microsoft 365 license is required to access data. Unfortunately, inactive or deprovisioned user data is permanently deleted, and there is no rollback option.
App outages
Uptime is great until an outage occurs, planning for the unexpected is key to recovering quickly when an app outage occurs.
Microsoft 365 is Not Automatically Protected
Data backup in the cloud is proven to be just as important as traditional on-premise IT backup. So much so, Microsoft recommends a third-party solution to securely backup your cloud data to avoid any possible data loss risks. An astonishing 1 in 3 companies reports losing data stored in cloud-based applications. The single leading cause of this data loss? Human error.
How vulnerable is cloud-based application data? An astonishing 1 in 3 companies report losing data stored in cloud-based applications. Gone. Lost. Forever. Clearly, best practices like data backup are just as important in the cloud as in traditional on-premise IT systems.
Frequently Asked Questions About Microsoft 365 Backups
Microsoft 365 is in the cloud. Isn't that safe enough? Why should I buy extra backup?
Data loss still happens in the cloud. In fact, 70% of businesses will suffer an unrecoverable data loss in SaaS applications by 2022. It often occurs because of accidental deletion, hackers, malicious deletion, and software issues. Show customers 'Top 3 Reasons To Backup SaaS Data' PDF to highlight why cloud data needs extra protection from outside threats.
How expensive is data loss? Is that less than I would pay in backup fees?
Every issue is different, so costs often vary. Average incidents incidents of data loss for SMB's typically cost between $18,120 to $35,730. Without a cloud backup solution, you will likely bill by the hour to fix their issue, which will be costly and disruptive to your business. And in many cases, the data is not 100% recoverable. Datto SaaS Protection will work out to be a few dollars per month, per employee and ensures lost or corrupted data can be quickly and easily restored.
I thought Microsoft and Google could keep your data safe? What's the advantage of restoring data from a backup solution?
The Shared Responsibility Model was created by Microsoft to outline who is responsible for data in different scenarios of data loss. SaaS vendors are only responsible for data protection and data loss some of the time. That means you are responsible for data security and data loss for the rest of the time.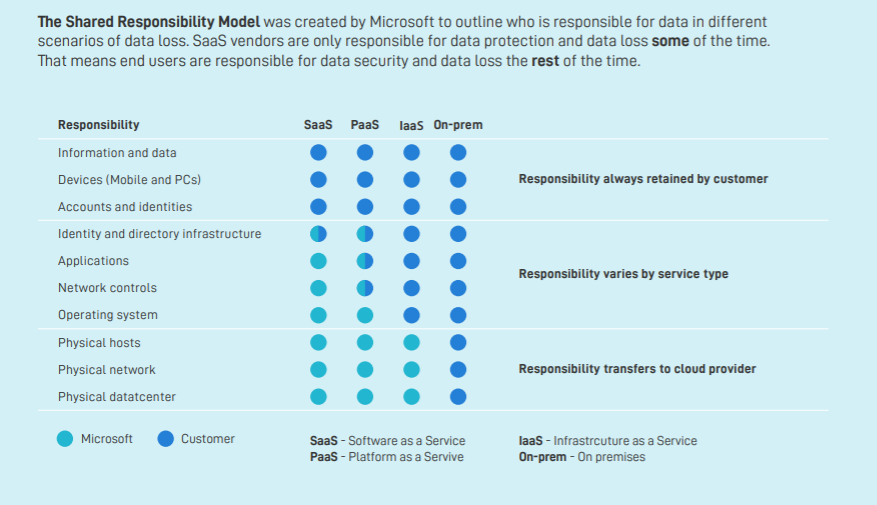 How much does Datto Backup for Microsoft 365 Cost?
Backup pricing largely depends on how much storage space you require. If you need under 1 terabyte (TB) of data, you're probably looking at roughly $189/month and typically there is no installation needed. Contact Louisville Geek to get an estimate.