Here are some of the most frequently asked questions about the upcoming Windows 11 release.
Windows 11 is the most significant update to the Windows operating system since Windows 10. The update promises easy-to-use tools that can help you optimize your screen space and maximize your productivity. With an update this large, we've put together some FAQ's for you to consider before updating to Windows 11.
How much does Windows 11 cost?
The upgrade from Windows 10 to Windows 11 is free on devices that meeting the minimum technical requirements.
What are the system requirements for Windows 11?
Your device must be running Windows 10, version 2004 or later, to upgrade.
| | |
| --- | --- |
| Processor | 1 gigahertz (GHz) or faster with 2 or more cores on a compatible 64-bit processor or System on a Chip |
| RAM | 4 gigabyte (GB) |
| Storage | 64 GB or larger storage device |
| Firmware | System firmware |
| Graphics Card | Compatible with DirectX 12 or later with WDDM 2.0 driver |
| Display | High definition (720p) display that is greater than 9" diagonally, 8 bits per color channel. |
Click here to learn more about the requirements to run Windows 11.
When can we upgrade to Windows 11?
The upgrade to Windows 11 starts on October 5, 2021, and will be phased and, according to Microsoft, will be measured with a focus on quality. Microsoft will then roll out the update over time to in-market devices based on intelligence models that consider hardware eligibility, reliability metrics, age of device and other factors that impact the upgrade experience. Microsoft says the expect all eligible devices to be offered the free upgrade by mid-2022.
How do I check if Windows 11 is ready for my device?
To check if Windows 11 is ready for your device, go to Settings > Windows Update and select Check for Updates.
How big is Windows 11?
According to Microsoft, the size of Windows 11 is roughly around 5.4GB, but it's worth pointing out that some users may receive incremental parts of the OS over time.
Will Windows 11 slow down my PC?
Short answer: Probably.
Longer answer: This is a significant update that includes a variety of new features and options. Anytime you run an OS update this significant, we recommend using this as an opportunity to make some adjustments to your system performance.
What does this update mean for Windows 10?
Microsoft plans to end support for Windows 10 in 2025. If your PC doesn't meet the hardware requirements to run Windows 11, your PC will remain on Windows 10 until hardware support expires (which welcomes a huge security risk).
Will features from Windows 10 be removed?
Some Windows 10 features will be removed from Windows 11. For example, Cortana will no longer be included in the first boot experience or pinned to the Taskbar. For a full list of features that will be removed when upgrading to Windows 11, click here.
What if I don't like Windows 11? Can I roll back to Windows 10?
Yes, Microsoft will allow you 10 days to roll back to Windows 10.
What's new in the Windows 11 user interface?
The Windows 11 user experience (UX) includes new icons, vibrant colors, rounded corners, and a new system font.
The taskbar has one new button, which opens a Widgets pane on the left side of the display.
The Start button still sits at the left of the taskbar, but the taskbar itself is now centered at the bottom edge of the screen. Start utilizes the power of the cloud and Microsoft 365 to show recent files no matter what device you were viewing them on (providing you're logged into Microsoft 365).
And last but not least, the new Windows logo now looks like a real window!
Will my existing apps and hardware work with Windows 11?
Because Windows 11 is sufficiently similar to Windows 10, the upgrade shouldn't pose a problem for most apps. Most apps and devices that work with Windows 10 should work as expected under Windows 11.
How do I check to see if an app or device will be compatible with Windows 11?
The best way to check compatibility for a device or app is to install the latest Windows Insider Preview release and try running it.
What new features come with Windows 11?
Windows 11 isn't just a reskinned version of Windows 10. There are several new features worth noting, and considering how mainstream Teams has become, we'll start with the Teams integration. Chat from Microsoft Teams is located in the taskbar so users can instantly connect via text, chat, voice or video with personal contacts regardless of which platform or device is being used across Microsoft Windows, Android or iOS.
What's your favorite new feature of Windows 11?
While it's still too early to name a favorite, we've been very impressed with the new and improved Snap Assist. While this feature has been around since Windows 7, it never really took off because using the feature was confusing and time consuming.
"Snapping" means dividing the applications or windows into portions on your screen. In Windows 11, you can easily split your screen into halves, thirds, etc. (depending on your screen size) in just a few clicks.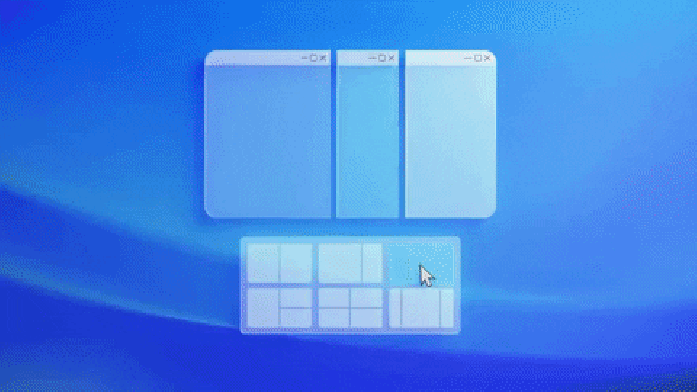 Windows 11 can process multiple configurations that can remember how you like things with and without a second monitor.
To access snap options, you'll need to hover your mouse on the maximize button of an app window, and you'll see the different options available.
After that, you'll click on the desired shape to customize the snapping experience.