What is Microsoft Loop And Why Should Your SMB Be Intrigued?
New software apps often promise to enable dynamic and innovative new ways of working. So you're forgiven if you roll your eyes when hearing about yet another new platform claiming to assist thinking and planning "like never before" that also helps you "stay in control," "ideate and create" and "transform the way you create and collaborate." Small and medium-size businesses (SMBs) should suspend disbelief, however, when hearing Microsoft make these claims regarding its new Loop app, available now in a public preview. 
Just what makes Microsoft Loop different? A couple things. 
Microsoft Loop delivers "a transformative co-creation experience"
Microsoft describes the new software as delivering "a transformative co-creation experience that brings together teams, content, and tasks across your tools and devices." That's admittedly corporate speak. Some skepticism is typically appropriate when reading such marketing-rich statements. But the big idea with Loop, and the concept that sets it apart from traditional collaboration tools, is users don't have to repeatedly jump back and forth between apps locating and grabbing revised text, numeric data, task status and similar information in order to paste updated selections within another app teams are using to develop, plan, track or manage a project. Loop automatically synchronizes compatible data in ways that truly make it possible for users to collaborate in more efficient ways.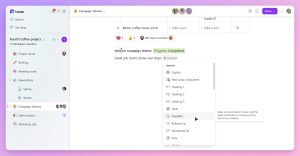 Microsoft Loop simplifies collaborating with team members on projects regardless of the location or time zone from which the user works.
The cloud-based Loop platform assists teams brainstorming, developing ideas, planning and managing projects and creating new and maintaining content by providing a shared workspace for communication, file sharing and collaboration. The app consists of three primary elements: components, pages and workspaces. Users can create an individual workspace for each project they're working on. These workspaces enable grouping pages of corresponding components together. 
Here's how Loop works. The app uses pages that are flexible. You build them as you go, changing, adding and editing elements—known as components—and adjusting these items' organization—within a dedicated workspace that can collect multiple pages. To further enable collaboration and productivity, authorized users can add and remove team members as they work project using Loop.  
The automatic synchronization of data—the underlying data and content components—is what makes Loop's innovation a big deal, enough to warrant your SMB's attention. When components—compatible content snippets collected from spreadsheets, lists, paragraphs and even tables that serve as portable pieces of data—are edited by one user in one app, they stay in sync, meaning the content is updated and synchronized everywhere, including in other applications where that content exists and is being used.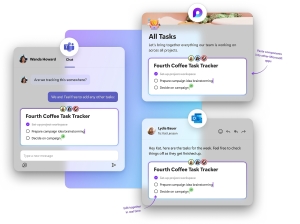 Microsoft Loop automatically synchronizes data-known as components-from compatible applications across its various workspaces.
Further, Loop also tracks and permits seeing where components were shared and which users possess access, providing managers and coworkers with the ability to better understand the history and development of a project, task or idea.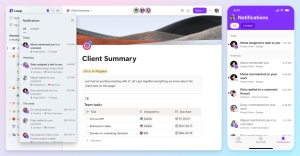 Microsoft Loop includes features to simplify projects, including granular notifications and task-tracking capabilities.
The overall concept is already proven. Microsoft isn't the first company to get there, even if Loop is still actively being developed and not quite ready for full-scale release, at least not yet. Notion Labs' Notion, for example, is a competing product with more than a million members that's already a popular solution for teams needing to brainstorm, manage projects, organize workflows and coordinate operations. 
Microsoft Loop assists in creating new workspace projects
The Loop app boasts another important capability, too. Thanks to AI capabilities and integration with Microsoft's new Copilot technology being tested within Loop, the collaboration app can also search relevant Office productivity files to create a workspace on a specific topic or subject and quickly spin up new initiatives. Although still in preview, the Loop platform currently supports 50 users editing files and information within a single workspace at the same time, and users can launch new workspaces efficiently by migrating existing boards from Trello, for example.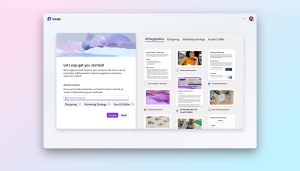 Innovations included within Microsoft Loop assist users in spinning up new projects – known as workspaces – quickly and efficiently.
In addition to syncing tasks with the Planner and To-Do apps, Loop permits synchronizing blocks of text or data across a variety of Microsoft 365 applications, including, Outlook, Teams, Whiteboard and Word's web version. Expect additional Microsoft 365 apps, such as Excel and PowerPoint, to come along sooner than later as the app matures. 
Microsoft Loop Availability
Currently available in a public preview version, SMBs seeking to test or employ the new collaboration platform first need to complete a couple steps. Enabling Loop requires creating a new corresponding security group and a Microsoft Loop cloud policy within a company's Microsoft 365 administrative portal. Beginning in September 2023, the platform's availability is set to expand to firms using Microsoft 365 Business Standard, Microsoft 365 Business Premium, Microsoft 365 E3 and Microsoft 365 E5 subscriptions. Ultimately, Microsoft is planning a staggered rollout into the next year to help ensure Loop performs as advertised and encounters no performance or scalability issues. Once enabled, Microsoft 365 subscribers can access Loop online at https://loop.microsoft.com. An Android and iOS app are also available. 
Want to try Microsoft Loop Yourself?
Your SMB—assuming your organization maintains a compatible Microsoft 365 account—can get started testing Microsoft Loop now. Just visit Microsoft's Loop landing page and click the Get Started button. 
Should you need help administering your Microsoft 365 account or require assistance enabling Microsoft Loop or any other Microsoft 365 app, just drop us a line. You can reach Louisville Geek's technology experts by calling 502-897-7577 or emailing [email protected].