Louisville Geek Uses Microsoft's Power Platform to create a Visitor Management App
Coffee for Closers has been a tradition at Louisville Geek for as long as any of us can remember.
The meeting's name originates from the famous scene in the classic 1992 film, Glengarry Glen Ross (language is NSFW), when Alec Baldwin's character appears in an unforgettable, eight-minute scene in which he verbally curb-stomps four underperforming salesmen and their boss.
"Put that coffee down!" Baldwin says with authority.
"Coffee is for closers only."
Our coffee for closers meeting is nothing like that scene, but we'd be lying if we said that movie wasn't frequently quoted during our gatherings, so the name stuck. Every Friday morning at 8:00 am, a small group of us get together for an informal brainstorming session, discussing anything from the latest gadgets to the everyday technical challenges that small businesses are facing, including ours.
If certain issues continue to resurface, the conversation usually switches to "what are we going to do about it?"
Challenge
How do we swap out a tool we use every day, for one that is not as costly and caters to the needs of the current global situation?
Idea
We know what's required for people to visit businesses. Let's build our own application.
Solution
Using resources and knowledge already at our disposal, create a touchless visitor management system that would allow clients to visit us safely, and comfortably.
Challenges: We all have them
Like most small businesses, we had our fair share of hurdles to overcome in 2020. We'd never lived through a pandemic, so nobody knew how to react. Once it was clear that this was going to have a significant impact on work as we knew it, the questions began to arise. What impact is this going to have on our business? How will this affect our clients? Will we need to send everyone home? For how long?
With so many unknowns, we figured it would be wise to use this as an opportunity to evaluate our monthly spending. More specifically, we did a thorough review of our monthly subscriptions. We live in a world of subscription overload; surely there were a few subscriptions we could do without until things get back to normal. As we examined our recurring charges, we noticed that there were 3-4 that we could live without for the time being. For example, we were paying $129/month for Slack. Since Teams is included in our Microsoft 365 subscription (the lifeblood of our organization) and offers relatively the same functionality, we decided to shed our Slack expense and migrate everyone to Teams.
Visitor Management System
Out of all the subscriptions we reviewed, there was one that stuck out more than any of the others. Before COVID, we used Envoy to help us track visitors and deliveries. An iPad was situated in our lobby and guests were asked to sign in before entering our office. After checking in, an automated email was sent to the meeting host notifying them that their guests had arrived.
To be clear, aside from a few limitations, we were satisfied with Envoy but considering that we were unable to host in-person meetings at the time, it made sense for us to pause the $99/month subscription.
Now that vaccines are being distributed and the world appears to be reopening, we decided to use the Microsoft Suite to build our own, customizable visitor management system.
They say limitation breeds creativity, and that was certainly the case here. As the world slowly began reopening, we once again were allowed to host onsite, socially distant meetings. We quickly realized how much we relied on Envoy. Having a tool designated to track visitors and notify hosts was a huge advantage, especially considering the number of visitors we welcomed. It saved us time, made a great impression, and most importantly, it kept our workplace safe.
"What we are witnessing is the dawn of a second wave of digital transformation sweeping every company and every industry. Digital capability is key to both resilience and growing. It's no longer enough to just adopt technology. Businesses need to build their own technology to compete and grow."

Microsoft CEO Satya Nadella
Idea: Let's build our own
Better yet, let's build our own using Microsoft's Power Platform since it's included in our Microsoft 365 subscription and technically, we are already paying for it. For those unfamiliar with the Power Platform, below is a quick rundown of the three products that makeup the service.
Power BI
Connects to a range of data sources (like Excel or QuickBooks) and pulls the data together to create useful charts and graphics. We've been using PowerBi for the past few years and its truly a gamechanger. No matter the size of your business, we are all amassing mass amounts of valuable data on a regular basis; why not put that data to good use and use it to make intelligent decisions?
Power Automate
Allow everyday users (just like you and me) to create automated workflows. These "Flows," as Microsoft calls them, automate repetitive tasks for you. For example, let's say there is an important Word document that you and your partners have been sharing in OneDrive. Wouldn't it be nice if you could get alerted anytime someone makes a change to the document? With Power Automate, setting up that workflow takes only minutes.
Power Apps
Have you ever thought of a great "app" idea for your business but never gave it any serious consideration because you figured it would cost a gazillion dollars? Power Apps is a low code tool that lets small and medium sized businesses build professional web and mobile apps. Gartner estimates that 65% of all app development will be low code by 2024. If that estimate holds true, that means we can expect regular employees (with no coding experience) to be building business applications in 3-4 years. Another advantage to Power Apps is that because it's a Microsoft product, there are already thousands of free, customizable templates on the Microsoft Marketplace.
Recap
In one week, we had successfully used the Power Platform to build a fully functioning visitor management system. We accomplished all of our goals, and most importantly to us, we kept it simple. Contrary to popular belief, sometimes even IT professionals don't always like adapting to new technologies. If our employees were going to use this tool, it couldn't disrupt any existing workflows.
As you can see from the screenshot, this entire process begins in the Outlook calendar like a regular calendar invite but there's more going on behind the scenes. Using Power Automate, we created a rule that checks the location as soon as an Outlook meeting is saved. If that location meets a specific criterion (in this case Louisville Geek), it automatically schedules an email to the visitor(s) 10 minutes prior to the scheduled meeting.

This is a screenshot of what the automated check-in email looks like. These emails can be customized.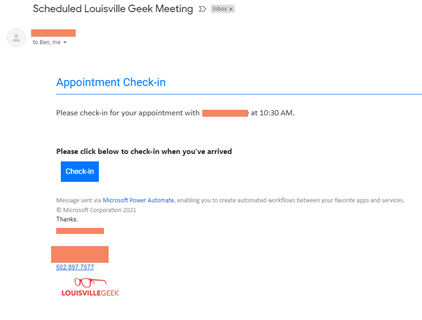 This is an example of a Teams message being sent to the host when the guest checks in.

Other Features
Touchless Sign In
We wanted to minimize the spread of germs and limit the exposure of our entire office by making this entire process completely digital. Visitors use their smartphones to complete the sign-in process (not a kiosk).
Building Capacity Limits/Notifications
With the uncertainty of when businesses can reopen at 100% capacity still looming, we wanted to build a tool to help us monitor our building capacity. In under 5 minutes, we could setup a rule to notify an admin if the number of visitors reaches a certain threshold.
Contract Tracing
One of the many lessons learned from the coronavirus pandemic is the importance of contact tracing. If we were to experience an outbreak, we'd like the ability to notify anyone who may have been exposed to limit the spread. Using Microsoft Dataverse (a cloud service that lets you securely store and manage data used by the Power Platform) we are able to view all of our records in an Excel spreadsheet.
Flexibility
Because Power Platform is a Microsoft product, it integrates seamlessly with other Microsoft programs. Why is this important? In this case the Outlook calendar is still the driver of the meeting invite, so if the meeting time/date were to change, as long as you update the new meeting date/time in Outlook this tool will adjust and reschedule the automated email to the visitor 10 minutes prior to the new meeting time.
Conclusion/What's Next?
After taking Microsoft's Power Platform for a test drive, we are believers. As we were working on this project, we felt like we were getting a sneak peek into our future, with automated workflows handling repetitive tasks. Having the ability to use your data to make data-driven business decisions is possible and something any small business can do with the Power Platform.
In our next case study, we will be taking a deeper dive into Power BI and look at some of the ways it can function with software that many of us are currently using like QuickBooks. If you'd like us to notify you on the release of that case study, sign up to receive our newsletter below.